If you are missing some historic sales data from HubSpot that you'd like to add to QuarterOne its very easy to backfill the data in a few simple steps. Here's how.
Step 1 - Identify missing sales data
Create a list of deals that need to be added to HubSpot/QuarterOne. Use the following link to download a suitable template. For each deal you'll need to know the following:
🗒️ Deal name
🏢 Client name - associated Company name in HubSpot
💲 Deal value - if you want to add several months of revenue for a single deal, make this the total value of all months.
📅 Close date - set this as the date you want the revenue for the deal to start in the forecast.
🏆 Deal Stage - select the relevant HubSpot Pipeline stage (e.g. Closed Won). Find out more here
📁 Pipeline - this is the Pipeline in HubSpot associated with the selected Deal Stage. Find out more here.
Other optional information that will improve the quality of reporting:
👤 Sales owner name - Deal owner in HubSpot
📆 Create date - this is the estimated date your business would have first been aware of the prospect. Adding this date helps us determine how long the sales process took (the sales cycle length), which we can use to help inform our future new business prediction.
🌐 Company Domain - use this if you'd like to add the deal to an existing HubSpot company record. Otherwise HubSpot will just create new Company records for each deal uploaded. Excluding this field has no impact on the reporting in QuarterOne, but may help keep your HubSpot data more organised.
Populate your missing deals into the following template ready for upload - HubSpot Deal Upload Template
Step 2 - Upload your missing Deals to HubSpot and sync with QuarterOne
Login to HubSpot and go to Settings -> Import & Export
Then select Go to Import followed by Start an import
An import wizard will start. Select the following options at each stage


What would you like to import? - select File from computer
How many files are you importing? - select One file
How many objects are you importing? - select Multiple objects
Select the objects you'd like to import and associate - tick both Companies and Deals
Upload your files - select the upload file you create in step 1 above.

You should then be presented with a screen similar to the below. Ensure the close date field is mapped to the Deal Close date (as in the first image below), not the Company Close date (as in the second image below).

Like this:

Not like this:

Once you've uploaded the file to HubSpot, login to QuarterOne and re-sync your data.
Step 3 - Adjust the monthly revenue spread in QuarterOne (optional)
Your imported deals will immediately appear in QuarterOne following the sync with reach deal added to its respective close date month.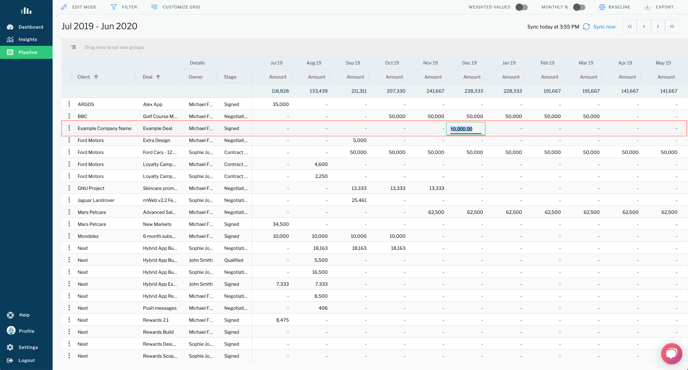 If you'd like to spread the imported deals over several months, you can then either:
Spread the deals using the Pipeline grid interface (see How do I spread revenue over multiple months article for further information).
Or upload/copy the spread of revenue from an existing MS Excel spreadsheet by using Copy/paste functions (click Ctrl+V to paste data on the Pipeline grid) as demonstrated in the below video.